It today's world, the amount of information flying around is overload to say the least. So more than ever it is vital to the success of any business to be focused on the tasks that drive results. As a home business owner, it becomes even more important that you take responsibility to focus on strategic initiatives in your marketing and sales. At Home Office Pro, we have been working hard understand what makes people achieve success and what stops people from succeeding.
The number one reason most people fail is because they don't start or they quit part way through.
We believe most people don't start or quit for 3 reasons, and as soon as you apply the pain of frustration the 3 doubts begin to surface.
Those 3 doubts are.
-They forget why they are committed to it.
-They don't believe they can do it.
-They don't know how to do it.
It is important for your team members to know exactly how to answer those 3 questions in their minds at all times to stay focused.
Hard work is not always enough
Being the hardest worker doesn't always get you the best results, It's a combination of hard work and focusing on the right tasks. The problem is most agents starting out struggle with what to spend time on. We also found that for new entrepreneurs it is tough to cope with the fact that they are no longer trading time for money. It takes a lot of time to build a business so you can reap the benefits later, and if you can't squash your 3 doubts you will find it hard to stay motivated. The problem here was that it is incredibly hard to start off when you don't get rewarded with a paycheck. Its easy to quit because there is no immediate gratification, and it's important to us as people to be appreciated for our hard work.
So we set out to fix these problems and here is how we did it.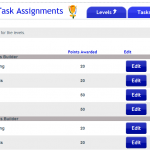 Introducing Goals
Goals is a Home Office Pro module that allows the leadership of a Home Office Pro installation to set commitment levels, expectations for those levels and weekly critical activities. The weekly activity plan is based around the time commitment and goal that the user sets for themselves. We feel this is a great transparent way to set realistic expectations for the users while showing them the way to achieve their goals. To battle the problem with forgetting why they are working so hard, the system asks them why they are committed to their goal so we can remind them of their  "why" each time they visit the task page.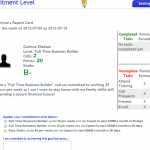 Personal Report card
By following the simple steps, the  Home Office Pro Goals module will track each member's progress and share their achievements with their sponsor via the report card tool. This ensures users get the recognition they deserve for doing the small actions required to foster their success. It is also handy for sponsors so they can properly manage the time they allocate to hard working team members.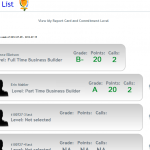 Accountability
In any system, accountability is key.  The  Home office Pro Goals module is designed to never let you forget your Goal and helps you stick to it with the help of weekly report card reminders, dashboard motivational messages that contain your reason for working towards your Goals and much more! Members can also keep track of the report cards of their enrollments so they can help their downline to succeed.
Contact Your Home Office Pro Representative today to get the Goal module added to your team system.
If you are new to home office pro, let us show you how we can increase the growth in your organization today.
Click: http://www.homeofficepro.net/pricing.php or
Call: 1-866-995-GROW
Written by Ryan Hache on behalf of the
Home Office Pro Development Team